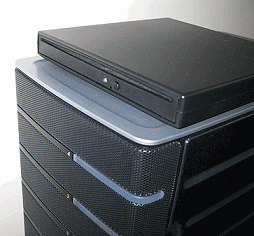 dBpoweramp has released RipNAS essentials for Windows Home Server users.  As the name might imply, RipNAS enables CD ripping directly to your WHS.  Even HP's MediaSmart Server!
Read more after the click!
From dBpoweramp.com:
RipNAS Essentials™ is an ideal companion to any Windows Home Server (WHS) system [HP MediaSmart, Fujitsu Scaleo, Tranquil PC, etc]. RipNAS adds CD Ripping capabilities to your WHS box (whilst maintaining WHS abilities). Adding new discs to the music network share (for media streaming) is as simple as inserting a CD and waiting a few minutes. Windows Home Server, a Media Streamer [sonos, Logitech Squeezebox, etc) and RipNAS Essentials™ are all that are required to join the distributed home audio revolution.
How easy is CD Ripping with RipNAS? (example using Teac Secure Model):
Insert a CD into the slot loading drive,

Track Titles and Album art are automatically downloaded from the Internet using PerfectMeta™ (AMG, GD3, MusicBrainz & freedb)

CD tracks ripped to a lossless audio format (configurable) using dBpoweramp CD Ripping Engine (regarded as the best of the best),

Ripped tracks automatically saved to Music shared folder along with embedded album art (also Folder.jpg),

Secure Model verifies ripped tracks for errors using AccurateRip and c2 pointers,

Only four minutes to rip an entire CD (

approximately)

, after which it is ejected.
RipNAS Essentials is available as: software & CD/DVD drive (high quality Teac USB slot loading drive, everything needed to begin ripping), or stand-alone software.
Ready for Streaming
Tracks can be ripped to either FLAC or WMA Lossless and are automatically embedded with ReplayGain ID Tags. FLAC is ideal for Sonos or Logitech Squeezebox media streamers. WMA Lossless can be used with  the built in WHS Windows Media Connect music sharing option, streaming to all uPNP compatible devices.
RipNAS operates 100% without the need for 'eyes on' interaction, whilst at the same time RipNAS integrates into the Windows Home Server Console page, allowing precise control over Ripping operations: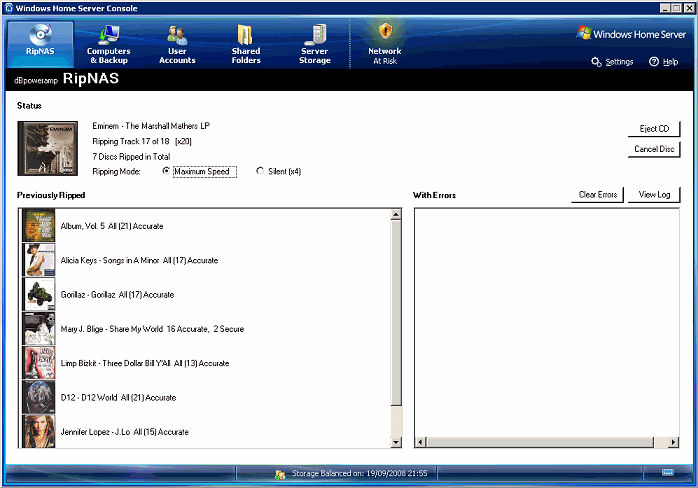 The main RipNAS status page is shown above: current disc shown at the top, previously ripped discs are listed below. When secure mode is active tracks with unrecoverable errors are separated into a different folder. Silent ripping is possible with a x4 speed ripping option, which renders the drive in-audible (requires x4 speed compatible drive such as Teac).
Fine control of RipNAS is accessible through the Settings page: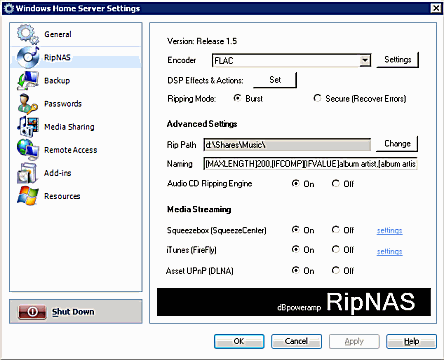 On the settings page encoder (audio format) can be chosen, RipNAS comes preinstalled with the following encoders: FLAC, Wave, mp3, WMA (Lossless), Apple Lossless. In addition any supported dBpoweramp encoder can be installed. [Multi-Encoder] allows two audio-formats to be encoded at the same time (for example a FLAC lossless archive along with an mp3 collection for use in a portable mp3 player). Secure models have the option of switching between Burst and Secure ripping modes (detection and recovery of errors), also Squeezebox and iTunes Server (Firefly) can be configured and disabled if present on the machine.
Pricing
RipNAS Essentials and Teac USB Drive $165US, $165+VAT EU
RipNAS Essentials and Teac USB Drive(secure abilities) $215, $215+VAT EU
RipNAS Essentials Software Only $80, $80+VAT EU, $80 Worldwide
Requirements
Internet connection to Windows Home Server machine, for metadata and album art retrieval.
RipNAS & Drive option requires 2x free USB ports.
Purchase Details
Software delivered electronically (ensuring latest version)
PerfectMeta (AMG, GD3, MusicBrainz & freedb) functions for the life of the product.
Teac Drive Specifics Includes: Delivery, USB cable (and PS2 power pass through cable for USB 1.1 ports). 1 Years Warranty.
Check out the dBpoweramp.com site for more details and purchasing options.
Stay tuned for a homeservershow.com review and podcast on RipNAS Essentials.