Today we will be discussing the news and going over an external eSata enclosure.
MSWHS - Hi Grade Home Server Review
PCMag(I referred to it as PCWeek in the podcast) Home Server Build
HomeServerHacks.com - Home Server Build (Updated)
Seagate Barracuda 7200.10 500GB 3.5" SATA 3.0Gb/s Hard Drive
- $74.99 July 18th price is $79.99
Review
Rosewill RX-358-S BLK (Black) 3.5" SATA to USB & eSATA Ext. Enclosure w/Int.80mm fan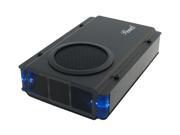 Price - $44.99
Contents List:
External Enclosure
AC power adapter
eSATA Cable
eSATA Bracket
USB Cable
Screws
Warranty – 1 Year Parts and Labor
NewEgg Customer reviews – There are 135 and 70% are 5 Eggs.
I chose this drive because it mostly resemble the WHS, it has a Fan,a fan on/off switch, a case on /off switch, USB, and eSata ports, and comes with PC eSata bracket.
The feel of the case material was good and it was sturdy. The drive slid in very nicely and the case did not feel cheap. I have some super cheap IDE external cases that I wouldn't wish upon anyone!
WHS recognizes the drive just fine. This is not PP1 so I can't use it as a backup external and I don't want to add it to my drive pool for this review. The OS will not have it registered as a drive without a little work. I partitioned and formatted the drive via Server 2003 Disk Management. Assigned it a drive letter and now it's visible under My Computer. This was all done via a remote desktop session to the server.
A non-scientific* data transfer test was performed with the unit using a Western Digital WD5000AAKS, 500Gigabyte, 7200 RPM, 16MB cache, SATA Hard drive AND, a HP EX-470.
13 Gig File transfer via eSata – 4 Minutes, 7 seconds.
13 Gig File transfer via USB – 8 Minutes, 43 seconds.
The eSata is a full 4 and a half minutes faster than USB. We all know it's faster but here is "real world" trial with the Windows Home Server.
*This was timed via stopwatch and not the file transfer "Time Remaining" indicator. I did notice however, the time remaining predictor was all over the place with the USB connection transfer. The eSata transfer was much more reliable.
Conclusion
I find that this external drive case satisfies the requirements in which I purchased it for. I wanted it to closely resemble the HP MediaSmart Server and also have a fan, USB, and eSata connectors. The bonus of this case is the fan's on/off switch. I also found it nice that an eSata expansion adapter was included for a full size PC.
The speed of eSata compared to USB is a no brainer. The million dollar question is will I use the drive on the eSata port? Probably not. Seeing those speeds I will save this port for a multiple drive enclosure that I will add larger drives to my WHS data pool. This enclosure will find a nice cozy USB port and it will be a PP1 external drive. Meaning, I will back up the entire WHS with this drive when PP1 is fully released.
The fan is a bit loud but I'm thankful to have it. You could fry an egg on some of the older enclosures I used to run. The last thing, it's a bit clunky looking and I could do without the bright blue LED's.
It's not a big deal since I'm after function, not form but it's not the prettiest and the "nuclear" bright LED's will be way too bright at night if your server is visible. Speaking of LED's, there are two on the enclosure. My unit only had one working but I was thankful for that. Lastly, $44.99 is a tad on the high side. I would like to see that price come down around $5.00.
Overall it's a great enclosure and I would recommend it if you are in the market for one.
Rosewill RX-358-S BLK (Black) 3.5" SATA to USB & eSATA Ext. Enclosure w/Int.80mm fan - Retail